Follow our step-by-step guide to help you buy a boat

Which boat to buy?
It's helpful to draw up a list of priorities based on the type of boating you want to do: are you looking to buy a motor boat that will get you across the Solent quickly, or do you want to buy a yacht that will take you across the Channel and beyond? Would you rather buy a boat that has been maintained well or are you looking for a project? Should your new boat come with safety gear or do you already have everything you need? How many people will be on board at once? Do you want to stay on board overnight?
If you need advice about which boat to buy or you want to know something specific about boating and sailing, the best place to ask the question is in the YBW Forums, where our knowledgeable members will be able to help.
Boat budget
You also need to decide how much you can afford to spend on a boat. Don't forget when setting your boat budget that you will probably need to put aside a certain amount for maintenance and fitting out costs. It's important to consider that running costs for mid-range yachts around 36ft long stands at roughly 10% of the boat purchase. The running cost of motor boats will be higher, especially as fuel prices continue to rise.
Other costs to consider include mooring, servicing, maintenance and liftout and insurance premiums.
Market research
Once you have a clear list of priorities, it's a good idea to start looking through the thousands of adverts for boats for sale online. This will give you a good understanding of whether your boat budget is realistic or if you need to make a few more compromises. The listings on YBW Boats for Sale cover both brokerage boats and private boats for sale. A quick search will allow you to spot any differences in the prices and quality of boats offered by boat brokers and private individuals.
Don't forget to check our magazines too! Pick up a copy of Practical Boat Owner, Yachting Monthly, Yachting World, Motor Boat & Yachting or Motor Boats Monthly and take a look at the boats for sale in the back of the latest issues.
View the boat
When you find a boat for sale that catches your eye, you should arrange to view it. It's a good idea to take along someone who owns a boat (if you're new to boating) as they will be able to provide a useful insight.
If you're keen after viewing the boat, you should ask to see all ownership and service documentation.
Offer and deposit
If the viewing goes well and you're still keen to complete the boat purchase, it's time to make an offer. You don't have to stick to the asking price, but going in with a hard offer may make negotiations down the line a lot more difficult.
The bargaining stage is the perfect time to check the inventory of the boat and clarify exactly what equipment is staying with the boat.
When you've reached an agreement with the seller, you will be expected to put down a deposit of roughly 10%.
You may want to draw up a contract before putting down the deposit. If you're buying a brokerage boat, the broker will help you with this. If you're buying a private boat, you can get a free sale agreement template from the RYA.
Remember that your offer is subject to the boat survey.
Boat survey
The next essential step is to get a boat survey done before. The survey will flag up any problems that may lead you to re-negotiate the terms of the sale, request a repair or pull out from the sale altogether.
You can either hire a surveyor or, if you're an experienced owner, conduct your own boat survey.
Boat test
If the result of the boat survey is encouraging and you wish to proceed with the boat purchase, it's a good idea to see how the boat handles in the water. Now is the time to ask for a sea trial or demonstration.
If you're testing a motor boat you should a look at a few key points, such as: is the engine hitting max revs? Is the performance as described? Is there excessive smoke after the engine has warmed up? Are there any obvious vibrations? Does the navigation equipment work?
If you're looking at a yacht, make sure there are no cracks in the shrouds and that there are no dimples, dents or soft patches on the deck. Check the keel bolts, look along the side of the yacht to make sure the side hasn't warped and keep an eye out for any hairline fractures in steel and aluminium.
Payment
If both parties are happy, the only thing left is the payment. This works in slightly different ways if you're buying a brokerage boat or a private boat.
For brokerage boat sales, you will pay the broker and sign a sales contract. As soon as the funds clear, the boat will be yours.
With private sales you will need to draw up a clear contract between yourself and the boat seller. Ensure you detail the boat and hull number and specify the money that is changing hands. This paperwork will prove essential when it comes to selling the boat on too.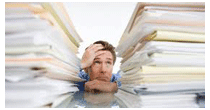 Don't forget the essential paperwork
You'll need boat registration documents, warranties, manuals, a sales contract signed by the boat owner, receipts of any service or maintenance completed, an invoice and a receipt of the boat purchase.
If you need any more advice about how to buy a boat, our forums are the best resource. We have thousands of boating members who will be able to answer any further questions you may have. It's free to register and use the forums.
Disclaimer: The content above has been published for information purposes only. Whilst every effort has been made to provide accurate and up-to-date information, we strongly recommend that you consult the RYA or the BMF if you have specific questions or concerns about buying a boat.