When Robert Forrester returned from picking up engine parts in Miami he also came back with a surprise for his wife - a Jack Russell called Tara. Now the tale of the terrier who sailed around the world is a new book!
Robert and Rosemary Forrester were already cruising on their Oyster 435 ketch, Deusa, when they got a new crew mate – a Jack Russell terrier.
The six-week old puppy was a surprise for Rosemary from her husband, who had flown to Miami from Colombia to pick up engine parts.
Christened Tara, this four legged "sailor" soon dominated life on board.
As the Forresters recall in their new book: "We could never pretend there wasn't a dog on board".
Tara: The Terrier who sailed around the world records the exploits of the Forrester's canine companion, as well as the couple's voyage from Cartagena, Columbia to South Africa.
Their journey took them through the Panama Canal and into the Pacific Ocean, with stops in many of the islands along the way, including French Polynesia, Fiji and the Solomon Islands.
They also stopped in Australia, Indonesia, Singapore, Thailand, Malaysia and Borneo before crossing the Indian Ocean to Mozambique and South Africa.
The early part of the book details how Tara adapted to life on board.
It wasn't without its trials – she broke her leg while a puppy after jamming it in the cockpit drain.
But, the terrier soon got her sea legs, despite a handful of "dog overboard" incidents!
One of these will certainly leave you with your heart in your mouth: Tara went overboard in the middle of the Malacca Straits off the coast of Malaysia!
Despite the odds stacked against her, this little terrier survived and was picked up by a local fisherman.
Following an appeal through the China Press newspaper, the Forresters and Tara were reunited four days later.
And this is just one occasion when this canine sailor went overboard – proving that it's not just cats that have nine lives!
There are some delightful anecdotes throughout the book.
Tara's love of dolphin watching on deck, her wilful disobedience while on land, catching a 40cm long shark for lunch and picking fights with monkeys and cats are just a few.
This little dog's personality jumps at you from the pages.
A must read for canine loving sailors!
Tara: The Terrier who sailed around the world by Rosemary and Robert Forrester is priced £9.99 and is available via the Hubble & Hattie website and from the book's website.
French skipper Guirec Soudée and his pet red hen, Monqiue are now through the Northwest Passage as the intrepid pair…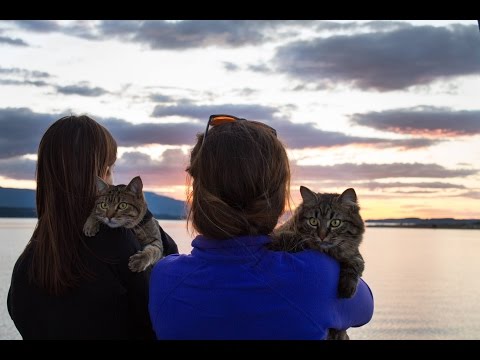 Feline brothers, Bolt and Keel were found abandoned behind a rubbish bin. Now they have a life of adventure which…
Liz Clark left California, USA in search of adventure, but the skipper is never alone thanks to her rescue cat,…