Buying a used yacht at the right price is an enjoyable exercise but it's important to follow some simple rules. Miles Kendall sets out what you need to know...
Use the internet
The internet is a fantastic resource when looking for a used yacht. Boats for sale websites contain tens of thousands of boats and allow you to search by length, design, price or geographical area. You can also add keywords to refine your search.
"Most of our enquiries come through the internet now," says Robin Hodges, a yacht broker with Patrick Boyd Multihulls. "There's a good selection of boats and buyers can easily compare prices."
So the internet is the place to look, but with so many boats to choose from where should you start? Deciding the length of the yacht you want is a good beginning, advises Robin. The number, age and ability of crew, along with type of mooring, will help determine the length overall (LOA) of the yacht you are seeking.
Bigger boats are more spacious and stable but with larger sails and greater loads they can be harder work to sail. The equipment on board will also be more expensive to maintain or replace.
Once you have an idea of your ideal length it's time to see which boats might fit the bill in your price range. If you come across designs that you're not familiar with then head back to the web to search for owners' associations which are likely to give more technical details and photos as well as an idea of what owners use their boats for. It's also worth visiting www.ybw.com where you can search through an archive of magazine boat tests and order copies.
If you're still all at sea then talk to a yacht broker. Of course they'll be keen to sell you a boat, but they're also likely to have a broad experience of many designs and should be able to point you in the right direction.
For a more objective opinion you could employ the services of one of the many surveyors who operate boat finding services. They'll combine their expertise and experience with a network of contacts to track down a boat that will suit your needs.
View your prospective boat
After hours of online research, combined with browsing the classified sections of your favourite sailing magazines, you'll be itching to step aboard a reallife boat.
A wasted trip to look over a boat is frustrating so do your homework first. Ask the seller or broker to provide as much extra information as possible including the age and condition of engine and rigging.
It may be possible to see a previous survey and ask to be sent as many digital photographs as possible. If these are not forthcoming, ask yourself why.
Buying a yacht is a major investment and it is worth travelling a long way to find the right one. Cheap flights mean that most corners of Europe are within a few hours reach and the more distant the boat, the cheaper it is likely to be.
Do I need to make a deposit? Should I use a broker?
"If you're buying privately, don't pay a deposit," warns surveyor, Chris Berry. "If you get the survey back and there are material faults then you are entitled to your deposit back, but some sellers simply refuse to refund it."
Chris advises agreeing the sale privately, then approaching a broker to handle all the paperwork and see the deal through. "The broker can handle the deposit and should charge less than their standard commission."
Brokers' deposits are usually up to 10% and should always be put in a 'clients' account' . While this does not protect the funds entirely, it does mean that they should be returned to you if the broker becomes insolvent.
"Brokers can help renegotiate prices if the survey finds material faults," explained Jane Gentry, chief executive of the Yacht Brokers, Designers and Surveyors Association.
"They can also help ensure the boat is compliant with the European CE regulations and any VAT documentation is in order." Builder's certification and RCD documentation are other seas of red tape that a broker can help you navigate through.
The Royal Yachting Association, British Marine Federation and Yacht Brokers, Designers and Surveyors Association can all advise on the boat buying process and produce standard contracts. But before the deal is done you'll want to get a boat survey.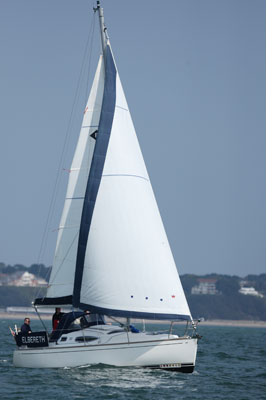 Why do I need a boat survey?
There is no formal qualification in yacht surveying and it is possible for almost anyone to set themselves up as a surveyor, so how do you know which one to choose? Membership of a professional body such as the Yacht Brokers Designers and Surveyors Association or International Institute of Marine Surveying is a good start. Such organisations insist that their members have professional indemnity insurance and that could be invaluable in case of a dispute.
"A surveyor does more than just advise on the material soundness of a yacht," says Jane. "They can advise you on the suitability of the boat and suggest how to deal with defects and the costs involved. They can also oversee repairs or refits."
A well-written and thorough survey report can be crucial to negotiating a sale price but one thing to beware of is brokers' 'pet' surveyors.
"Brokers should not recommend a specific surveyor," explains Jane. "They should provide a list of local surveyors and allow the client to ring round and choose one independently."
There are many good brokers who do not belong to professional bodies so ask around.
"Find out which surveyor people use in your local yacht club," advises Jane. "If you mention a name and everyone raises their eyebrows then find someone else."
Important boat sale documents
Make sure you know just who is selling the yacht you think you might buy. You need to establish if the yacht is privately owned by a single owner, by a partnership or syndicate, or by the seller's company. As a general rule, the bigger and more expensive the yacht, the more likely that there is some complexity in her ownership.
This is especially relevant where VAT is concerned. You must also make sure that the yacht is the seller's to sell, and that she comes unencumbered with other people's claims. A yacht on the Part 1 register will have a title history, in particular a record of whether there is a mortgage registered on her. The Ships Register offers no such history and SSR registration is meaningless in terms of who has title to the yacht.
Other documents you should ask to see include the original Builder's Certificate, the original receipted VAT invoice and the signed forms of contract and Bills of Sale concerning the yacht from the time of her launch right up to the present.
Negotiating a boat sale
With the survey in hand, it is time to go back to the broker or private seller and agree a final price. If the sales description matches the survey there'll be little room to negotiate as you have already agreed a price in a legally binding contract. If the survey unearthed serious faults you can either take back your deposit and walk away or renegotiate.
Before you hand over the money, ensure that you are absolutely clear about what is included. Owners may have taken gear off over the winter and you shouldn't pay for items on the inventory until you've inspected them. An inventory that looks impressive on paper may turn out to be made up of worn sails, rusty outboards and out of date charts. On the other hand, items that you presume are included may be removed if they don't appear in the inventory.
There are other advantages to buying a previously owned boat. Any niggling teething problems will have been discovered and most likely sorted out. Undersized winches will be replaced, squeaky lockers will be oiled and loose cleats tightened.
Old boats start to develop their own faults of course, but if you buy a boat that's been well used you'll know that she's in a usable state.