From foldables to ribs, the range of inflatable and rigid-hulled craft that can serve as yacht tenders is bewilderingly varied. Which is the right one for you? James Jermain investigates

Transoms, ribs, rigids and folding: the range of dinghies used for tenders is many and varied. But there is general agreement, at least in the marketplace, that a medium-sized, inflatable dinghy, with a transom and an inflatable floor is the tender of choice for most cruising yachts.
So why are they so popular? Are they always best and what should you look for?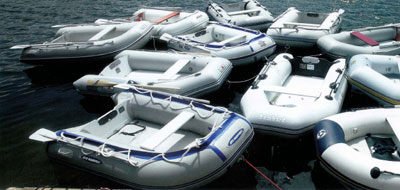 The popular choice

The reasons small to medium-sized inflatables are so popular are not hard to find:
– They are tough and durable
– You can bump into things without doing damage
– They are comparatively light
– They fold away into a reasonable small space
– They are very stable
– They have a high load capacity
– They work well under power and are reasonably efficient under oars
– Your feet remain dry with the floor inflated
– There is one at a price to suit you, from under £400 to nearly £2,000
With such a wide price range there are clearly big differences between the large number of brands. The main variables are:
Size
Inflatables suitable for yacht tenders start at around 2.00m (6ft 6in). This is an adequate size for a small yacht and will be capable of taking two people safely with a small (2 to 2.5hp) outboard.
To carry four in safety in choppy conditions you will need to go up to 2.90m (9ft 6in) or more.
Inflatables this size will take a 10hp motor although this might be heavy to handle. A popular size is 2.60m (8ft 6in), which will take three adults and maybe a child and is a good balance between capacity, size and weight.
It is easily launched from a small foredeck, weighs a portable 30kg or so and packs down to a stowable size.
Materials
Generally, the more expensive the inflatable, the better quality the material. At the top of the tree is Hypalon which has the longest warranty period (ten years).
Most dinghies use PVC-coated fabrics. The heavier the material, by and large, the more durable it will be. Fabric life warranty will be around five years.
Tubes
Dinghies of yacht tender size usually have two or three inflation compartments plus floor and keel.
For safety the more the better but for easy inflation and deflation, two is enough. Tube diameter is also important. Fatter tubes keep backsides further from the water, provide a softer ride and keep water where it belongs.
On the other hand big tubes are heavier, bulkier and more expensive.
The alternatives
Just because the vast majority of tenders rowing or puttering across the harbour have essentially the same configuration, doesn't necessarily make it the best for you.
There are alternatives and they have advantages.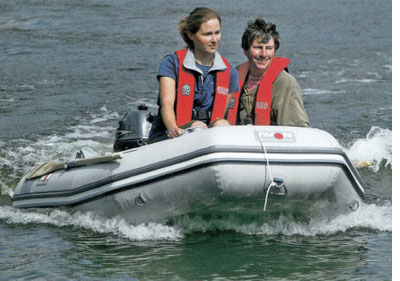 Ribs
Rigid inflatable boats have GRP hulls with inflatable tubes to provide buoyancy and protection.
They combine many of the best features of sports boats and pure inflatables. But the rigid hull means they are comparatively heavy and do not fold down for stowage on board.
They are best for larger boats or those that carry the tender in davits. They can be fitted with larger engines so can double as a fun boat and as a tender for accessing a remote mooring.
Rigids
Few yachts will carry a rigid dinghy on board these days. Difficult or impossible to stow, launch and recover they are just too inconvenient. But as a means of transporting people and kit from shore to a remote mooring they still have advantages.
Tough, easy to row and power, they also have high internal volume for a given size. They can be used as a sailing tender and children's fun boat once anchored for the day.
Foldables
There are a few folding semi-rigid dinghies on the market. The former is a multi-purpose sailing dinghy/ tender that can be stowed along the sidedeck of cruisers from about 10m upwards.
They are vulnerable in bad weather offshore and not particularly good load carriers but for family fun, during a holiday cruise, they can be a good choice.
This article was first published in Your Yacht 2006